Wellness is taking on a whole new meaning right now, especially as we're all confined to much smaller spaces than we're used to. But, fuelled by protein and green juice, the wellness industry is a robust one, and it hasn't taken long for it to shift a gear and make it easier for everyone to workout at home or in smaller spaces.
So, while the past decade has seen people go crazy for new fitness trends and new workouts, including hybrid spin classes, meditation apps, lunchtime HIIT sessions, and even goat yoga.
Now, we're seeing much more inventive ways of making sure people get their wellness fix at home or in the park. This year, home sessions have taken on a new level of intensity thanks to industry-leader Peloton.
And if you're after something a little more recovery-focused then don't worry, the fitness gurus out there have you covered.
Here's your guide to the new workouts and fitness trends you can look forward to sweating, and smiling, your way through.
Your workout just got shorter
You might have thought that HIIT could not get any more intense, but in 2021 it looks like it will take on a whole new meaning with micro-HIIT.
While many of us try to fit a HIIT session into our busy schedules (the recommended time being 20-minutes of HIIT, three times a week), high-end fitness club Equinox predicts that we'll be practicing micro-HIIT throughout the day. That means finding any opportunity to fit in one, two or three minutes of HIIT, while you wait for your coffee to brew or for your boss to get back to you on Slack.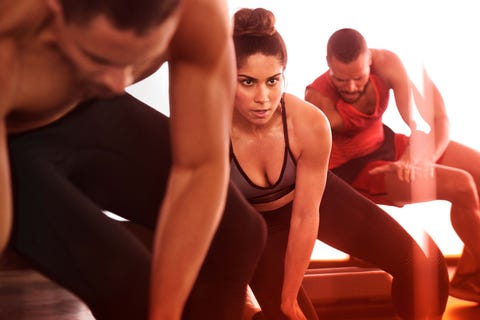 The benefits? According to Pamela Peeke, an assistant professor of medicine at the University of Maryland and Health Advisor at Equinox, 'The healthy stress your body undergoes during HIIT triggers autophagy, which rids your body of cellular debris and stimulates the production of stem cells, the primary regenerative cells in the body. The more stem cells you have, the better you are able to induce super autophagy — it's a cycle.
You can get your Micro-HIIT workout to fix easily at home, with the 7 Minute Workout Challenge app, which you can download here.
Dynamic at-home sessions
There's no stopping New-York based cycling sensation Peloton. The billion-pound fitness company is taking the indoor cycling world by storm with high-tech £1990 at-home spinning bikes.
Each Peloton bike is equipped with a 22-inch HD sweat-proof touchscreen which lets you tune in and experience 48 daily and a library of thousands of on-demand classes, without having to leave your house - or even change out of your pajamas if you really want to save on gym kit laundry.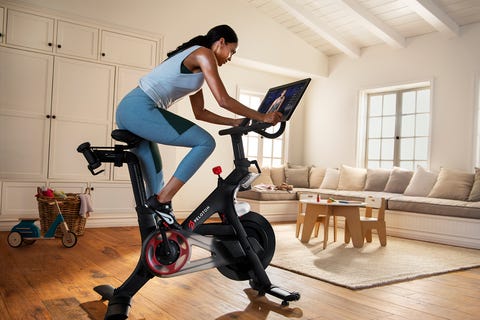 Reckon you'd slack outside of a class environment? We thought the same, but, actually, the trainers are so enthusiastic their energy is infectious. Plus, the session has been recorded in a room of people who are also working out - not only are your energy levels up but you also (sort of) feel like you're at the gym anyway.
Look out for the huge Covent Garden Peloton studio opening in 2021 which will be the new HQ for recording all live and on-demand classes. It'll be open to the public too if you wanted company for your next class.
And if cycling isn't your thing, then Peloton Digital can be accessed through your phone, TV, even your Kindle for yoga classes to suit every level and even the time of day, plus meditation practices and strength-based workouts. They've just extended their 90-day trial so now is a good time to test it out.